Social
Employees
Commitment
The Group is committed to fostering a collaborative and diverse working environment for its employees and offering equal opportunities to all its stakeholders.
Talent Development and Training
As the Group's success depends on its ability to attract, retain and develop suitable talents in a competitive labour market, it is committed to creating opportunities for youth people and providing them with goals to aspire to. The Group works closely with educational institutions to recruit talented young people who will support its growth.
The Group encourages its employees to broaden their horizons and acquire "future-fit" skills by participating in a comprehensive array of training programmes. Skills gaps are identified through training needs analysis, and training is provided accordingly across a wide range of areas.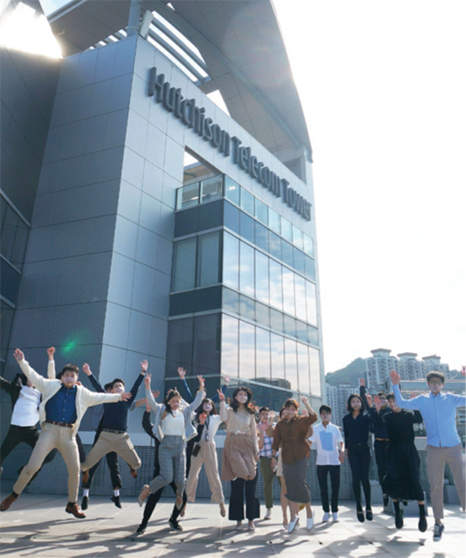 Employees are encouraged to broaden their horizons by participating in the comprehensive training programmes of the Group.
Connecting with Employees
The Group respects the rights of its employees to express their views. The Group has established a number of communication channels for sharing its business development initiatives and, including seminars and workshops, which are designed to facilitatinge open dialogue with employees. Employees are encouraged to exchange viewpoints and ideas through these media. Feedback and suggestions from employees are important in shaping the talent management practices of the Group.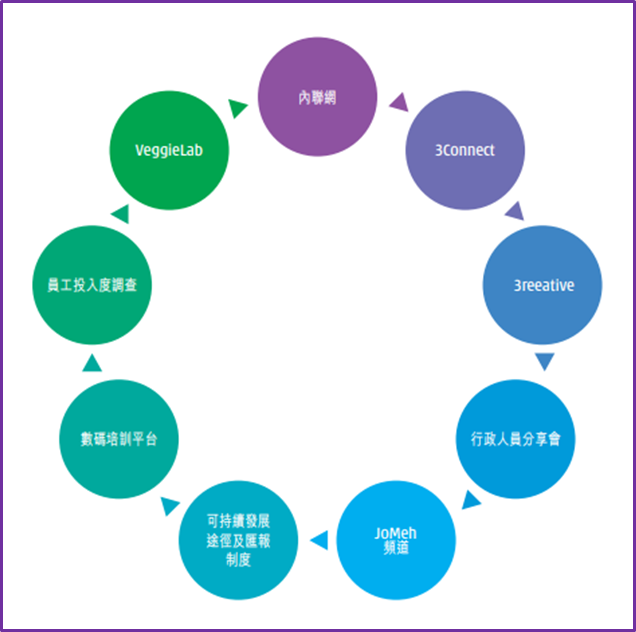 Health, Safety and Well-being
The health, safety and well-being of employees are core values of the Group. The Group offers a robust welfare programme covering a broad range of areas related to well-being, including work-life balance, physical health, fitness and sports, balanced and nutritious diets, and mental health. The Group provides flexible paid leave entitlements and maternity and paternity leave. It also supports a 24-hour worldwide emergency hotline and medical insurance and retirement schemes as part of its extensive employee fringe benefits.
The Group is committed to creating a safe and healthy workplace. Employees are offered health and safety management programmes and related trainings based on the nature of their work and applicable safety standards. They can also access the latest health and safety information on the Company's intranet. Refresher courses on relevant safety guidelines are provided periodically.
Monitoring Compliance
The Group adheres to fair employment practices and promotes diversity and equal opportunity in its recruitment and promotion processes. Employees are hired and selected based on their skillsets and abilities, regardless of their race, gender or religion. The Group has zero tolerance for discrimination and harassment of any kind, including but not limited to unwelcome and offensive conduct (whether verbal, physical or visual) based on a person's gender, relationship status, disability or other factors. The Group also strictly prohibits the use of child and/or forced labour. Rigorous measures and audits are taken to prevent unethical practices. The Group complies with all applicable labour standards, employment guidelines and regulations, and all labour-related legislation relevant to its operations.
Key governance and sustainability policies and guidelines of the Group, the Corporate Governance Report and the Sustainability Report are posted on the website of the Company.
Community
Commitment
The Group is dedicated to making the local community a better place and creating long-lasting value for its stakeholders. It seeks to maintain long-term partnerships with local communities and charities through mutually beneficial programmes and encourages its employees to take part in volunteering activities.
Overcoming the Pandemic Together
Since the beginning of 2020, the COVID-19 pandemic has made a devastating impact on individuals and businesses around the world. During these challenging times, the Group has remained committed to maintaining its outstanding service level, while at the same time continuing its outreach initiatives to support those adversely affected in the community.
Diversified Community Support
The Group is committed to giving back to the communities it serves through broad and diverse outreach initiatives that encompassing activities in education, youth engagement, and elderly support among others.
Key sustainability policies and guidelines of the Group, and the Sustainability Report are posted on the website of the Company.